Orchid-Star
Faster Reimagined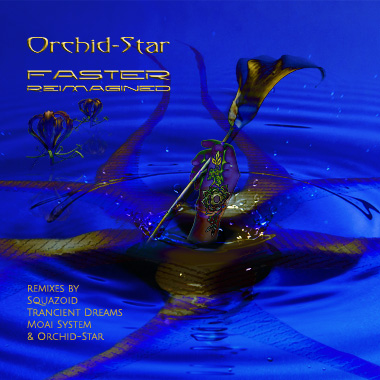 Orchid-Star
Faster Reimagined
Digital Album
Pink Hampster Recordings - PHDD20
Released Dec. 4th 2020
This was something of an accidental album which came together when Orchid-Star realized in August 2020 that they had somehow over the years accumulated remixes or alternative versions of 8 out of 10 tracks from the album, either finished or finishable, mostly from within the band (from main producer Pete Ardron, including one with SandRa, and 2 dance mixes from percussionist (DJ) Sean Spindrift, plus one from good friends Trancient Dreams, and suddenly an album was on! They invited two of our favourite outfits - Squazoid (who had previously remixed Orchid-Star's 'Wildflower') and Moai System to complete the collection.
1. Brighter (Slow Version)
2. Shouty One (Sean Spindrift Remix)
3. A Better Ride (Squazoid Remix)
4. Surya (DnB Mix)
5. Puja (Trancient Dreams Remix)
6. Lotus Bloom (Pete Ardron & SandRa Remix)
7. Barefoot (Sean Spindrift Remix)
8. Prchla (Moai System Remix)
9. Orchid-Ska (Gig Version)
10. Dans La (Inny's Thankyou Mix)
Buy as a download(s) here:
We will add more links as we get them!
"Upon starting the opening track of this remix album of Faster, I knew that there was a sense of expectancy and I was not disappointed. The chilled vibes emitting from the tracks Brighter, Dans La, Lotus Bloom and Puja, sit perfectly alongside the dub influenced reimaginations of A Better Ride, Orchid Ska and Prchla. These are interspersed with the up tempo tunes of Shouty One and Barefoot, with the classic drum and bass version of Surya. A perfect mood setting collection of tracks that allow the listener to immerse into an auditory dark room to forget about the worries of the world right now. With remixes from Squazoid, Trancient Dreams, Moai System and from the band members themselves, this album has been a delight to savour and revisit. " - DJ Liquid Lounge
"You re-imagine an album like Faster and from the root new and fresh branches are born. Eclectic, with many sound textures and above all with the desire to listen to it again." - Daniel Sol, Ensancha el Alma Rec.
"Well what an amazing treat! Soon to be taking its place as our favorite disc for driving to! Faster Reimagined is a stunning collection of remixes from the Orchid Star album - Faster. It features dubby half time bass treats through to progressive stompers and Drum n Bass magic - a genre defying cornucopoiea of psychedelic styles - just yum!" - Michael Westcot, Terra Nine
"The dnb mix of Surya is a lovely piece of Asian electronica that centres around the vocals, a perfect tune for a stomp in the sun... this collection with it's fresh lick of paint, displays both the uniqueness and diversity that Orchid-Star offers" - Woodzee, Sun is Shining Dub n Chill
There's a 4-page pdf booklet that will come with the album from some stores but not all.
If you don't get it you're very welcome to
download it free here