Pete Ardron & Samantha Ray
Interuterion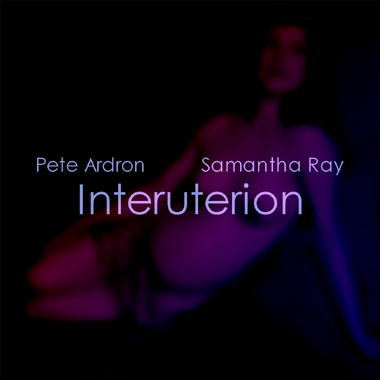 Pete Ardron & Samantha Ray
Interuterion
CDR and digital album
Pink Hampster Recordings - PHCD10/PHDD10
Released Dec 12th 2012
Ethereal, inspirational and meditative soundscapes created with the human voice
1. Serenity (32m 33s)
2. Reverie (36m 16s)
Although much processing is used to produce a range of sounds from natural to electronic, Samamtha's improvised vocals (along with a handful of other vocal samples on Serenity) remains the sole sound source throughout.
The tracks are made from collages of recordings for other collaborations, including their first track together 'Chatoyant' from Pete's album 'Aria' and Orchid-Star's 'Passion' and an opera fusion project still in the pipeline.
Serenity was originally produced in 2003, was used in 2005 as the musical core to Simon Rogers' exhibition Water Feature and in 2010 for Collision Course by Carmelo Musca of CM Films and Garry Stewart of the Australian Dance Theatre.
Reverie was produced in 2012 when they decided to turn it into a full album project.
"My verdict if you're looking to escape the beats and listen to something more meditative and healing for the body and mind you can't go wrong here it's a fantastic collaboration by two amazingly talented artists."
Buy the album on CD from:
There are only very limited stocks of CDs left anywhere
Buy the album as a download from:
NB. some sites, like iTunes will only sell the album as a whole, but you can get single tracks elsewhere, including our own shops