Glow & the Dept. of Luminosity
Enfeitiçada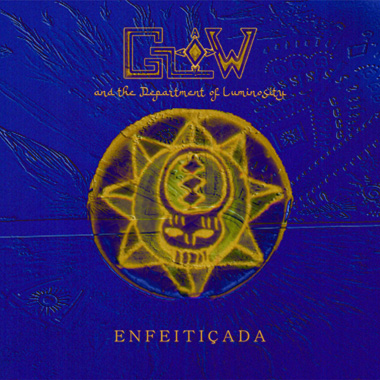 Glow & the Dept. of Luminosity
Enfeitiçada
Digital Album
Pink Hampster Recordings - PHDD23
Released Jan. 7th 2022
Enfeitiçada was written and recorded between 1998 and 2001 and first released in 2001 after the band's last live performances.
(Some of the tracks were remastered for its first digital release in 2022 but there is not enough change to regard this as a new version).
I have always regarded this album as one of the highpoints of my creative life, it was the culmination of 8 years of growing together as writing partners and the first time I really started to feel like a producer. It was also the first time I had recorded and mixed everything on a computer which opened up so many possibilities compared to my very ill-equipped studio - both on quality and quantity! With essentially unlimited tracks we could turn it into a big production. On top of the regulars - myself, Maria João, Karl and Bagz - we had the following people who had regularly or at some point gigged with us - Myo, Sandra Phenis (Amazirée), Bianca Janossy, Sean Quinn, Nigel Hopkins, Margie Newens and Sam Rayner and we further expanded the Dept. of Luminosity with some exceptional guests - Omar Puente, Steve Lambert, Samy Bishai and Bouzid Adda.
We were able to have big multi-vocal arrangements, full brass sections, loads of percussion and awesome solos. Things I've grown to take for granted since, but which at the time were like being set free and sent off on some wild adventure!
Pete Ardron
1. Al-Gharb
2. Exposed
3. Squish
4. Pensando Em Ti (Thinking Of You)
5. Sinto (I Feel))
6. What Do We Know
7. Fantasmas (Ghosts)
8. Quem Sente Assim (Feeling This Way)
9. Enfeitiçada (Bewitched)
10. E Como Rasgar (It's Like Tearing)
11. Can't Catch The Wind
12. Quero Poder (I Want to Be Able to...)

Total running time 72'10"
Buy as a download(s) here:
Stream here:
(most links will not work till Jan 7th)
You can buy all 3 Glow albums for the price of 2 from either the Pink Hampster or Bandcamp links
We will add more links as we get them!
There's a 10-page pdf booklet that will come with the album from some stores but not all.
If you don't get it you're very welcome to
download it free here
.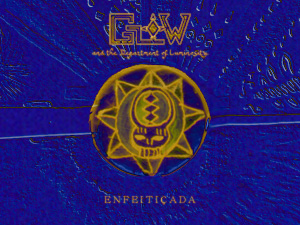 Glow started with a writing partnership between Pete Ardron and Maria João Branco in '93 and gigged between '95 and '00 with long-time partners Karl Walinets and Bagpuss, including WOMAD breaking their own rules to allow gigs in two consecutive years, '98 and '99. The Dept. of Luminosity was the expansion of the group into a larger live outfit as well as guests for recordings, which included along with Pete, Bagz and Karl three other members who later went on to play with Orchid-Star, including singer Myo